A Conversation with Jamie Cosco from Ruby Shooz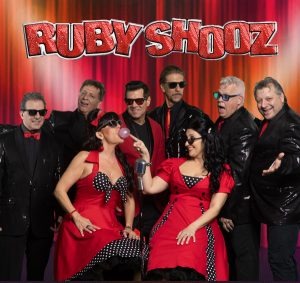 We are super excited to welcome Ruby Shooz to the Smith tonight! Hear from band member Jamie Cosco about the development of Ruby Shooz and what to expect from a concert!
Smith (SM): For people who are new to Ruby Shooz, what can they expect at one of your shows?
Jamie Cosco (JC): People can expect a high-energy Rock and Roll show, full of nostalgia and good times.
SM: What's it been like being shut down for the last year because of Covid? Have you had any opportunities to play?
JC: We have 3 new band members, so for the past 10 months, we have been practicing every week.
SM: What was your path to Ruby Shooz? Did you ever play in a hair metal band? Or a marching band? How about an a capella group?
JC: I used to play in a hair metal band in the 80s, but I loved Elvis more than anything so I started Ruby Shooz.
SM: What about the name Ruby Shooz? Is it just me or are you somehow evoking "The Wizard of Oz"? 
JC: Our very first drummer, which was six drummers ago, had a bumper sticker already made with the logo and the name Ruby Shooz, so I said, "Okay that's the name!"
SM: I take it you've never played at The Smith before. What's it going to be like playing there for you all?
JC: This will be our very first appearance at the Smith Opera House, but we have played several theaters in New Jersey, Ohio and even here in upstate, so the theater setting is something that we're accustomed to.
SM: How many people in your band and what instruments do you all play? How did you come together? How long has Ruby Shooz been together?
JC: We now have eight members in Ruby Shooz – bass ,guitar, drums, sax , piano and 3  lead singers. This is the 33rd summer of Ruby Shooz!
SM: How did you settle on your red and black color scheme? Where do you buy your costumes from?
JC: When the name of the band is Ruby Shooz, it's not hard to decide that red should be our main theme color. LOL! We do a lot of research on the internet looking for stage clothing that is classy, flashy,  yet cool and comfortable – sometimes it's a challenge.