National Players find timing is right for Arthur Miller's "The Crucible"
If you have gone to school in New York state, or just about any state in the country, the chances are good that you have read Arthur Miller's play "The Crucible." The historical allegory — Miller adapted the story of the 17th century Salem Witch Trials as a cautionary allegory for the unsubstantiated and damaging anti-Communist accusations led by Wisconsin Sen.Joseph McCarthy — was quickly recognized by educators as a classic. The play joined the high school literary canon, along with Shakespeare, Chaucer and Harper Lee and Richard Wright.
National Players, a traveling theater ensemble that has been presenting classic plays to communities across the country for 70 years, has bypassed Miller's masterpiece — until now. The company will return to the Smith Opera House on Monday, May 6 with a two performances of "The Crucible" as part of the theater's ArtSmart Educational Theatre series. The 10 a.m. show is geared toward school groups and includes a talkback while the 7 p.m. is open to the public and will include an intermission.
Why did it take so long for National Players to tackle "The Crucible?"
When National Players began planning its Tour 70 season (which follows the 2018-2019 academic year) back in early 2017, Thornton Wilder's "Our Town" had been at the top of the list, explains Jason King Jones, artistic director of National Players and senior associate artistic director of Olney Theatre Center, where National Player are based). But gauging how the country's political landscape was being quickly changed by a new administration, the group knew that the timing was ripe for "The Crucible."
"Honestly, 'The Crucible' has come into our consciousness more recently. There are a lot of questions like, 'What does a witch hunt actually mean?' That term gets used a lot more now, and that was one thing we were thinking about. 'The Crucible' is also a play that deals with how religion can get used as a weapon. Arthur Miller is one of the greatest American playwrights and 'The Crucible' is arguably his masterpiece as far his ability to craft language, to examine morality, to take the story of the McCarthy Era and put it through the lens of the (Salem) Witch Trials. There is a strong literary reason to do it as well," King Jones says.
The play made its Broadway debut in 1953, and has since found its way to films, television movies,repertory productions, community theaters and Broadway revivals. And, of course, school reading lists across the country.
For years, the play maintained largely the same look and feel, says King Jones, recreating a Puritanical set with stiff, black clothing off set with broad white collars and a wooden cross looming over a church. The most recent Broaway revival, starring Saoirse Ronan and Ben Whishaw, has broken that mold, with cross and church being replaced by a schoolroom chalkboard, cardboard Puritan garb being swapped for preppy untucked button-downs and pullovers and a wolf-like dog slinking across the stage.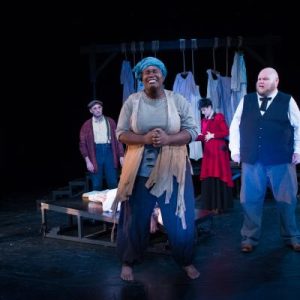 National Players take a slightly different tact.
"We started from a place that had more of an emotional response to the world to creating a world that already had pretty specific oppression to it, particularly to the women who lived in that world, because they are very limited by what they are able to do. The sense that there is a threat around them is what we wanted to latch on to. As far as the clothing, we wanted it to echo the era with the idea that there were constrictions with what they could wear in public vs. what they wear in private. But the overall look of the clothing will feel more modern than what you might expect from a Traditional production of 'The Crucible,'" he says.
Has it been a few years (or decades) since you read or saw "The Crucible?" or studied the Salem Witch Trials. Here's the plot summary. When a group of girls in 1692 Massachusetts are caught dancing naked in the woods, they begin accusing members of their rigid Puritan community of witchcraft in order to deflect suspicions that they themselves are guilty of sin. Their accusations, and the investigations and trials that ensued, spurred mass hysteria and chaos. In the end, nearly 200 people were arrested and more than 20 were executed or perished in prison.
But before you go running for the Cliffs Notes, take a chill pill, says King Jones. "As the director of the play, my job is to make the story as crystal clear as possible for anyone who is experiencing it, even if they have never read Arthur Miller's masterpiece and even if they know nothing about the Salem Witch Trials."
–Karen Miltner