SMITH HISTORY BLOG: Crowded Dressing Rooms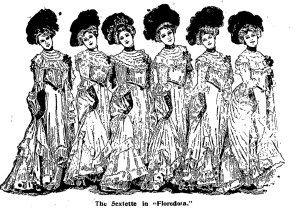 By Chris Woodworth
The Smith has recently revealed its brand new lower-level washrooms, marking the partial culmination of a major renovation. The building has endured a number of major projects over the years, including the massive renovation we talked about in the last two weeks of the blog. When the opera house was first opened in 1894, eight years passed before its first touch-ups. The August 26, 1902 issue of the 'Geneva Advertiser Gazette' noted that "The Smith Opera House is being brightened up with fresh paint and gilding. The old work put on by the Fairfax Brothers has worn well, not a thing having been done to the interior since the opening night" ("Home Matters" 3). In a few short weeks, the second phase of our current renovation project will be complete: a spruce-up of the lower-level dressing rooms beneath the stage.
For any local performer that has appeared on The Smith stage, the dressing rooms in the basement are, shall we say, cozy. Comprised of six small rooms, some of which were repurposed from storage or equipment rooms into dressing rooms, the dressing rooms are snug. We can thank Schine's Enterprises for the tiny spaces. When the opera house was first constructed in 1894, the entire back wall featured several floors of dressing rooms. These were all removed in the demolition of most of the original opera house structure. If you look at the rear exterior wall of the building (seen from Castle St.), you can see all of the bricked up windows, revealing just how much space was once there. The plethora of dressing rooms were necessary because in the early days of the opera house, national tours often featured enormous casts. For example, an April 1902 performance of the musical comedy 'Florodora' boasted a cast of 100!
With an ensemble that large, it was probably still pretty close quarters. Stay tuned to learn more about the present-day dressing rooms and their facelift!
Works Cited
Ad for 'Florodora, Geneva Advertiser Gazette,' 8 April 1902, p. 2.
"Home Matters." Geneva Advertiser Gazette, 26 August 1902, p. 3.
Reside, Doug. "Musical of the Month: Florodora," 8 July 2011. Billy Rose Theatre Division, New York Public Library for the Performing Arts. https://www.nypl.org/blog/2011/07/08/musical-month-florodora
"Theater: Coming Attractions." Geneva Daily Times, 5 April 1902, p. 7.